Chiesa di Sant'Andrea a Luiano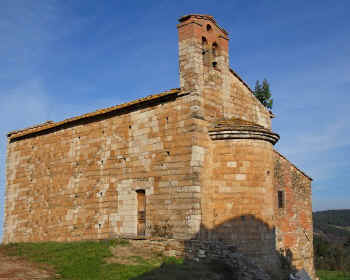 Chiesa di Sant'Andrea a Luiano
This church dates from the 12 C. It is the most important example of Romanesque architecture in the town of San Casciano in Val di Pesa. The most important freco from inside the church is now housed in the Sacred Art Museum of San Casciano.

Nearby there is the oratory of San Biagio which has a pleasant exterior door made of stone in the 16 C.
Villa Luiano
The name of this villa derives from the latin Lucas Jani (the Forest of Janus). The villa was built in the 16 C and is a fine example of a Tuscan country villa. It has a simple fašade with an ashlar doorway and inside it has a cloister in which there is a chapel dedicated to San Giuliano. In the past the villa belonged to Mellini, Borromeo and Strozzi.
Tabernacolo degli Strozzi
This tabernacle was built in the 15 C by the Strozzi family owners of the nearby Villa Caserotta. It houses a painting of the PietÓ with Saints and Angels by Agnolo Bronzino.
Cappella dei Peppoli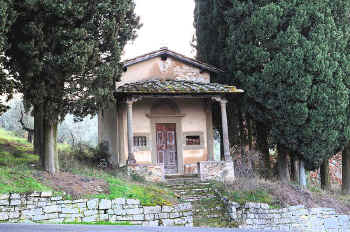 Cappella dei Peppoli
The Cappella dei Peppoli is located along the road that leads from Mercatale to the castle of Gabbiano. The chapel was built in the 16 C by the Cerchi family who dedicated it to the Blessed Umiliana de' Cerchi.

The chapel has the features typical of the architecture of the late 16 C. The fašade is preceded by a graceful, architraved portico resting on two Tuscan columns of pietra serena. At the sides of the fašade there are two half-columns and in the centre is the stone-framed doorway with two small windows on either side and surmounted by an arch with a lunette. Higher up is the monogram of San Bernardino of Siena. There is a stone-framed oculus in each side wall.
Cappella dei Marcellini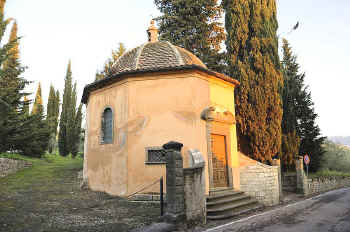 Cappella dei Marcellini
This chapel was attached to the Villa dei Marcellini and is located along the road that leads from Mercatale to Quattro Strade and then in Panzano. The villa of Marcellini was already in existence at the beginning of the 15 C, but the chapel was built after 1669, when the villa became the property of the Buontalenti, the direct descendants of the architect Bernardo.

The chapel has an octagonal plan and a beautiful portal framed in stone and topped by a curved broken pediment that folds in the middle to form two shell-like motifs. There is a small lower window on each of the two wall segments adjacent to the portal and larger, higher windows with round arches on the adjacent segments. The chapel is capped with a dome that emerges from the drum via a small pitched roof set on a frame that runs along the outer wall. The roof is composed of tiles arranged like fish scales and the segments are highlighted by gray stone ribs that converge all the small lantern at the top.